In the brewery craft beers, tonics, cocktails and much much more will be produced in the brewhouse accommodating 13 fermentation tanks of 1000 and 2000 liters capacity and 3 bright beer tanks. They will be served as fresh as possible from the 6 1000 liters bright shining serving tanks in the bar. You'll find no shorter route from tank to throat!
Tours & tastings
Permanent tours
At BRUS we offer a monthly tour & tasting. Every last Saturday of the month at 14:00 you'll have the chance to pre-book an hour's introduction to the BRUS brewery for 250 DKK per person. Here you'll learn about beer brewing and have a tasteful introduction to a handful of the different BRUS beers.
Book your tour & tasting via DinnerBooking here
We reserve the right to cancel the event, if there's not enough people attending.
Private tours & tastings
If you want to book your own private tour and tasting at BRUS, this is also possible. We offer two different options – both with a minimum of 12 people (or 3000 DKK). Contact jeppe@to-ol.dk for bookings and questions related to tours.
Please notice most tours are done in English.
The Grand Tour
App. 1 hour – 345 DKK
On the grand tour you'll be shown around the BRUS brewery and bar. You'll be introduced to the brewhouse and different fermentation tanks, learn about the brewing processes and get acquainted with some of the raw ingredients of the beer basis. After this you will be seated at private family-style tables in the brewery, where you'll be served a handful different beer styles from our own production and from some of the most interesting breweries around the world right now.
You will obtain a good basic knowledge on the brewery and the beer philosophy at BRUS and get a proper introduction to the different beer serves at the tasting.
On a tour like this there will be time to geek into the beer world, just like you'll have a more private space for tasting and talking.
The Small Tour
App. 40 minutes – 250 DKK
On the small tour you will have a short show around in the brewery with an introduction to the different fermentation tanks. After this you will be seated in the bar, where you will be served 5 tasters fresh from the bar. From the taps we'll be serving BRUS beers and drinks as well as some To Øl tasters. You will get a good sense of the different beer styles being served. On a tour like this, there will be other guests in the bar making it a less private experience than the grand tour but also less formal.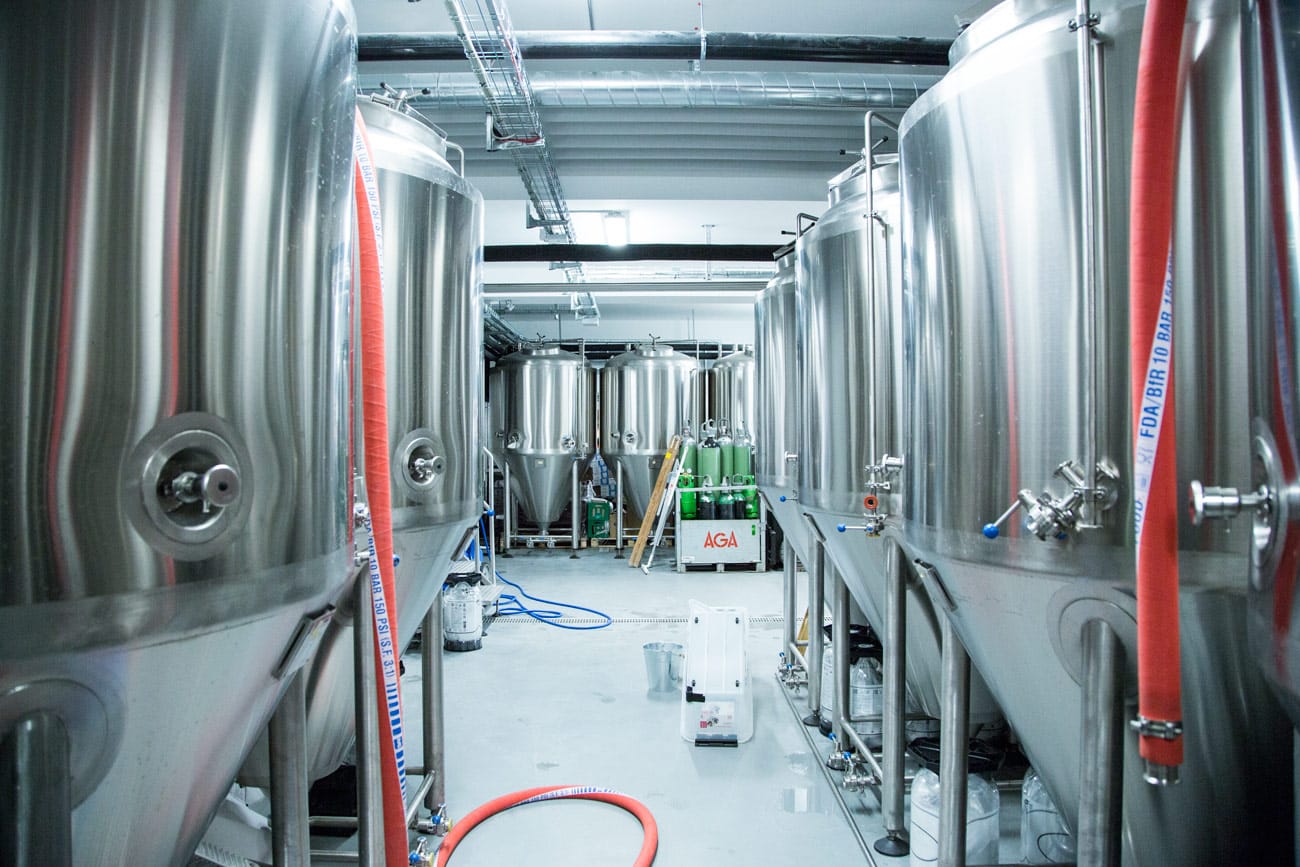 In the middle of BRUS you will find all To Øl's barrel aged beers on old wooden oak barrels.