BRUS Weekend Brunch Heavy Hangover Cure
BRUS Brunch is on every Saturday and Sunday. BRUS is your help in need whether you need to nurse your morning freshness or fix your irritated liver. The kitchen is serving up eggs, sweet treats, bloody mezcal and virgin marys plus of course To Øl's very own Reparationsbajer. Brunch is on from 11:00 – 14:30 every Saturday & Sunday in 2018 Check out event details and menus here!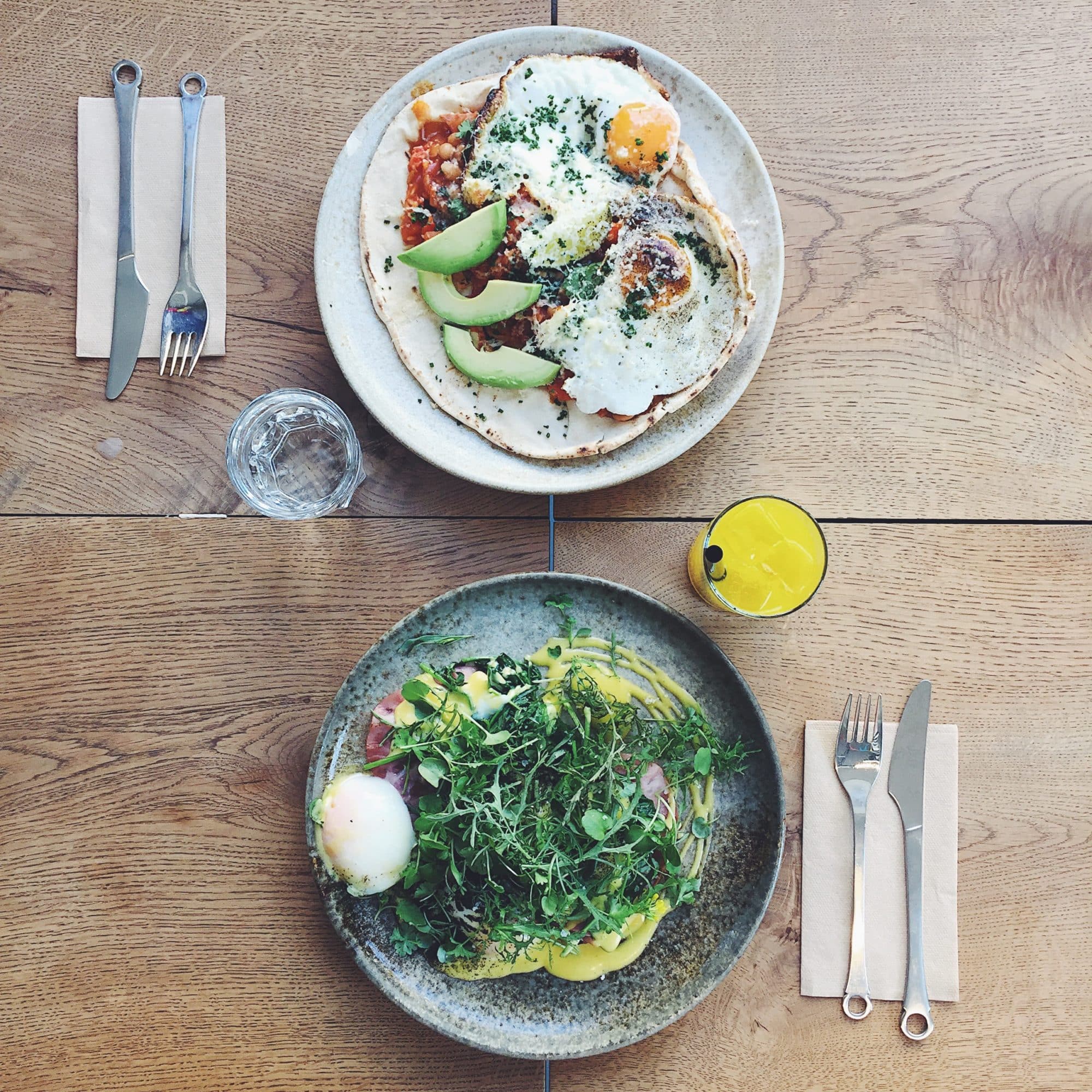 The story of BRUS
In an old iron foundry and locomotive factory in Copenhagen, the engines are running again. Brand new brewing facilities, specialty products, bar buzz and an ambitious young chef's team is breathing new life into the old warehouse.
The guys behind the brewery To Øl and Mikropolis bar have joined forces in creating a brewpub, restaurant, shop and bar in Nørrebro, where To Øl originally started the brewing adventure.
BRUS is the name of the place; a 750 m² raw building with activities ranging wide from brewing, kegging, cooking, shopping, dining and drinking. It all comes together in a sum of quality, science, experiments and functionality to create a playful venue for beer-lovers, microbrewers and hungry souls who fancy some socializing city life.
The Danish name 'BRUS' refers to the sparkling quality liquid obtains when carbonated; the frizzy feeling of great brew. With production on-location, BRUS aims to be Copenhagen's most ambitious microbrew projects to date.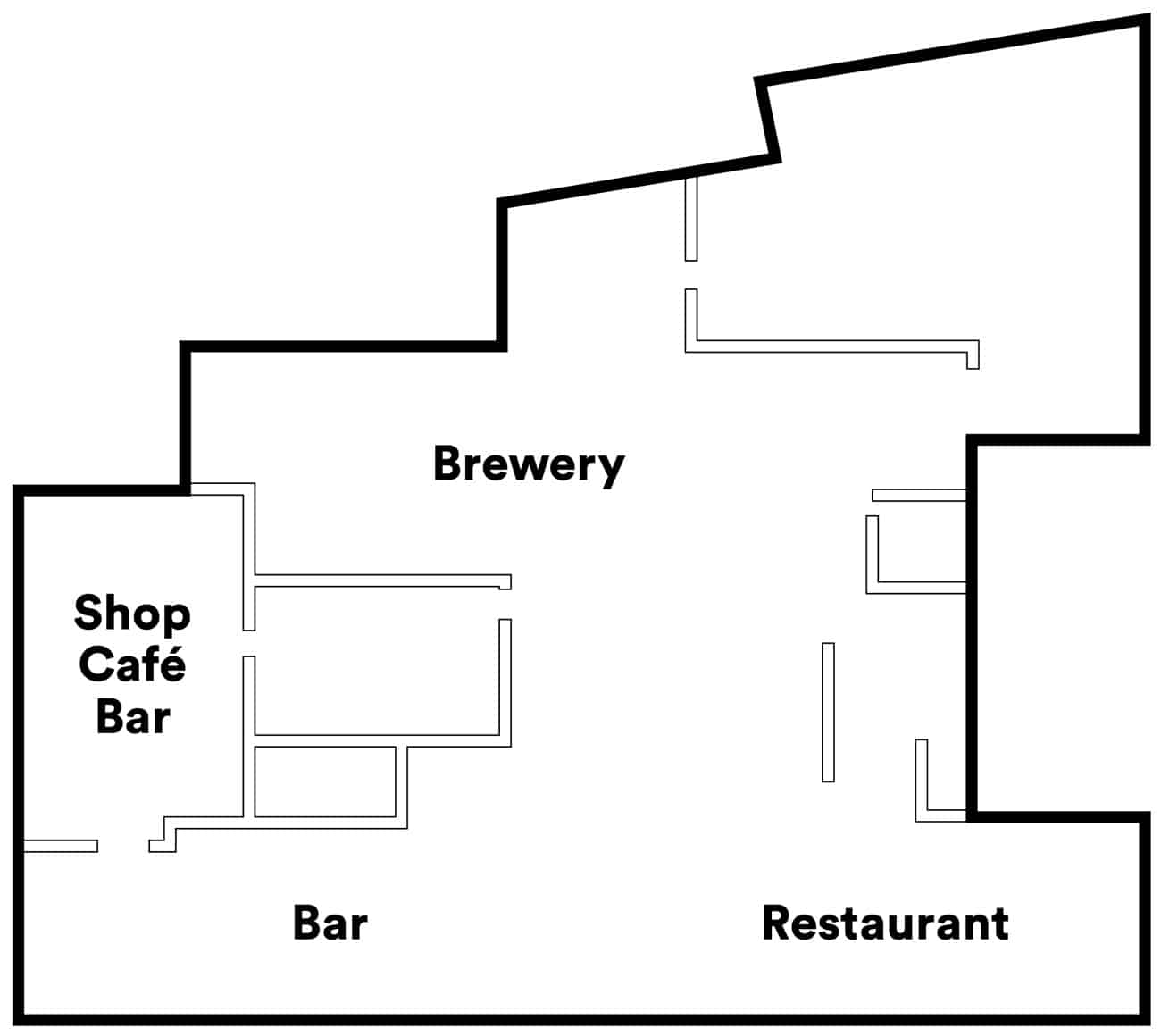 Mission
Our mission is to create a lively location for beer geeks, tonic treasurers and food fans and to offer our guests a whole new experience of going to a brewpub. We want to bring the experimental approach from craft beer production on to a wider and wilder selection of micro-brewed beverages. We love testing new flavor compositions. We bring in the twining herb of hops to infuse our tonic, the aromatic scent of yuzu in our citrus fruit juice and fermentation techniques from craft beers on to a wider drink repertoire.
Vision
With fermentation tanks of 1000 liters capacity, we are able to produce small batches and many different varieties. With this we want to expand the limits for craft brewed special drinks and offer a whole new experience of visiting a brewpub. You will be seated in the midst of barrels and fermentation tanks – not to ride the strong wave of authenticity, but merely to stage and illuminate the essentials; the brewing facilities in particular. We won't be barbecuing unless the sun is smoking and we can't wait to get outside. Instead you will be served beautifully plated food or indulge in mouthwatering burgers and fermented fries.
You're able to grab a quick bite before going to the cinema next door, but you can also stay seated for a full meal. You can get drunk in craft beers or die trying from all the frizzyness of our soft drink collection in the BRUS Shop. You might be able to take a quick dance on the tables in the weekend when we're open till silly o-clock, and when you recon it's time to go home, you can easily slip by the shop for some bottle sampling for the mini bar back home.
On Sundays we're opening the doors an hour earlier to cook up brekkietime with eggs, sweets, coffee and mezcal marys. All Sunday in 2018 11:00 – 14:00!
Brewery and products
13 fermentation tanks with capacity of 19.000 liters are brewing in the back of the pub. 2 wooden feuders on 2500 liters to store natural fermented brews plus a range of oak barrels to mature a number of To Øl's barrel aged beers.
BRUS is brewing, mixing and macerating ready-to-drink cocktails in the name of BRUS too.